Hey all! Long long time no post! Sorry, been busy with my job and I'm still not sure how I'm supposed to upload pictures....So yeah.
I told you in my last post that I bought a boy azone doll. He won't be here though for a little bit.
But I have a few surprises!
I bought Yui a mom and a little sister!!!!!! I made her brother and her little sister little adoption certificates.
Note: these images are not mine, all credit and such go to the owner of these pictures.
This is the picco neemo lil fairy 1/12 lil Santa-san erunoe (I think that was her name?) Isn't she so so cute!!!!! She stands at like 6-7 inches tall.
I bought her from hlj.com and for a pretty good price too. She was about $70. And it was so worth it.
She came in sooner than I expected, I ordered her on the last week of
December
and she came in like late
January
.
I renamed her though. Her name is: Noelle Candice (candi) Holly. I decided she'll be at least 5 1/2 years old
And then I saw this azone doll on
eBay
and she looked a lot like yui, so I was like; I think she'll be perfect for yui's mom, turns out this doll is from the k-on series too and is yui's music teacher or something. So I bought her and she was about $150. But I hadn't seen this doll anywhere else. So yeah...Score!
The characters name is Sawako Yamanaka.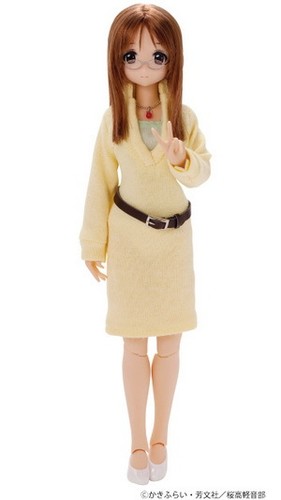 she looks so much like Yui though, and she is so beautiful and adorable! But as always, I've renamed her to Bethany (not sure about her middle name or last name but yeah)
So recently, I've seen azone dioramas with these adorable Japanese miniatures and I looked all around the web to see if they sold any, I didn't know what they were called until I found a whole website full of them. They are Japanese re-ment miniatures, I'm sure you've heard of them, and they are usually play scale like 1:6-1:12 scale. I bought some gutetama ones from hot topic and though they may be sometimes pricey depending on what you get, they are so adorable and worth it.
So I went on Ebay again and saw that they sell re-ment furniture, so I bought a kitchen counter. Now I have to get them a fridge and other stuff.
I'm wanting to slowly collect enough furniture and accessories for my little azone family for them to have a little apartment but until I learn how to make dioramas, I'm using an old unfinished dollhouse my dad made for me and my sisters when I was younger.
Also, I was reading through this azone blog a few weeks ago and noticed that there were cars the azones were using that were so realistic and detailed looking, so of course I went on a hunt for a car for my azone family and on eBay I found one, it was a New Bright PT Chrysler cruiser and it was 1:6 scale (I can't tell you how many web searches on my computer that I have that search: 1:6 :) so I bought it and when it first came in I was surprised on how big it was, I was worried the dolls would be too small but then I put them in and it was perfect! Bonus: It's an RC car...and it still works, my sister and I drove it around our room last week :)
this is what mine looks like, (not my picture though)it's red and it fits the dolls pretty well.
But yeah, more dolly stuff in the future! Just though it'd be nice to post this while I wait (VERY PATIENTLY!) for my azone boy :)
Anywho, hope you enjoyed this post, and let me know in the comments what you think.
-Addy